Pepe's Fishing Club, Byblos, Lebanon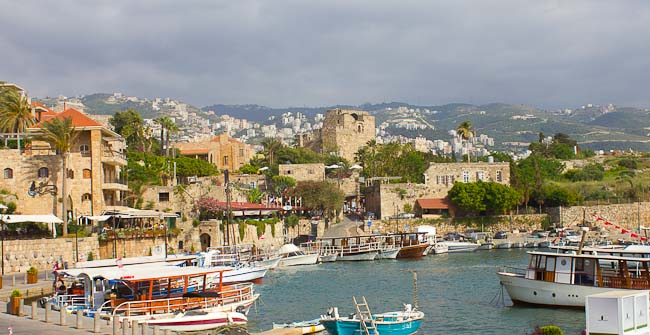 Back in the glory days of Lebanon, the 1960s and the 1970s, before civil war made the place a wasteland for decades, Byblos, an ancient city on the Mediterranean coast was the Middle East's answer to Saint Tropez.
And, looking at its pretty harbour — even before you get to the stunning ruins it's easy to see why.
Everyone from Brando to Bardot to David Niven, not to mention prime ministers and heads of state came here. And when they came, they always ate at Pepe's Fishing Club.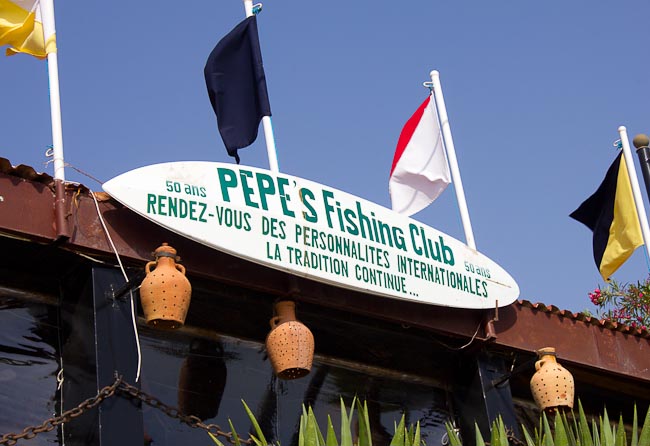 Now, of course, you can't expect to see any international glitterati here now — any more than you'd expect to find Hemingway still sitting in Harry's Bar, Venice, or Noel Coward washing down drinks in the Long Bar at Raffle's. That's not just because they're dead. But because the place has moved on. And if you come here expecting the glamour of yesteryear you will be disappointed
Pépé Abed, the Mexican-born pioneer who set up not only the Fishing Club but an empire of nightclubs and restaurants across Lebanon is long dead. And, though Byblos' port, souks and beautiful town are well-refurbished, and the city's a summer clubbing destination once again, the international glitterati have yet to return.
Plus, to be honest, I don't go to restaurants to star spot. But I do love a restaurant with heritage. And Pepe's remains a lovely and very atmospheric place for lunch — and, unlike Raffles, there's nary a tour group in sight.
There's a museum, showcasing Pepe's archaeological discoveries, and photos on the walls of the crusader-era vaults. Fishing nets still hang from the ceiling. And the view over one of the oldest continuously used ports on earth is, well, really rather lovely.
I like the style of the shady patio terrace, a blend of rustic Mediterranean seaside styling that sits just on the right side of kitsch. What do you think?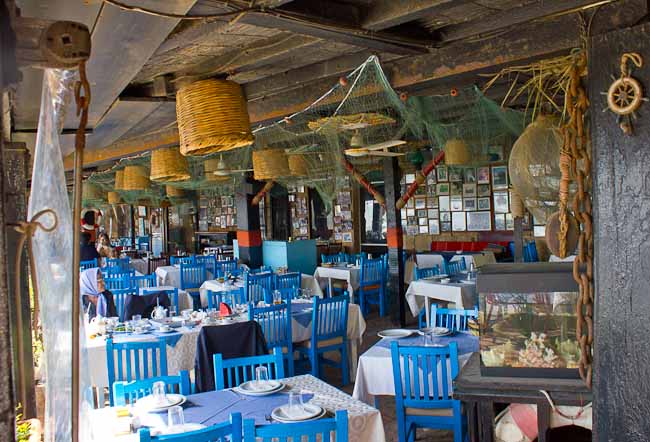 And, now, the gadzillion dollar question. WHAT ABOUT THE FOOD?
We started with a gin and tonic — served at a strength that would floor an elephant — for moi, and a fresh mint lemonade for junior.
The menu's a fairly simple affair: classic Lebanese mezze and salads, some more general Mediterranean type salads, fresh seafood (pick your own and weigh it out back), plus the Middle Eastern staples of chicken and kofta.
After some hemming and hawing — read, a lot of going to and fro around the kitchen — we decided to go with their set menu (LL38,000, or $25 a head), which buys you mezze to share, a plate of fish of the day for me, and shish tawouk (chicken shish kebab) for the boy.
And — gentle reader. Will you take a look at these mezze?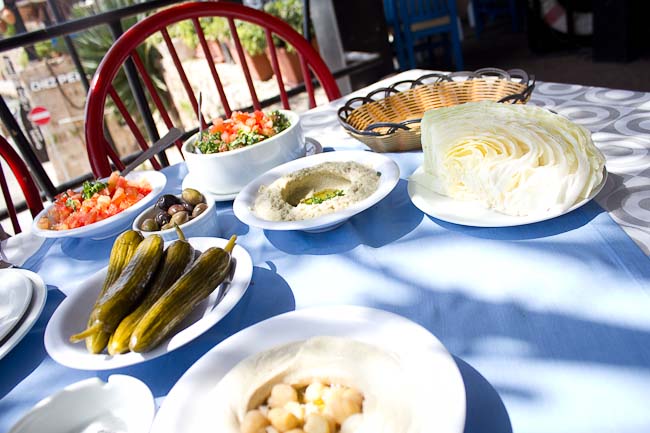 What do we have here?
Hummus: smooth, succulent, laced with great Lebanese olive oil and studded with whole chickpeas.
Chancliche: aged feta mixed with paprika and spices, to be mixed again into its bowl of tomatoes and onion.
Moutabal: rich, garlicky succulent aubergine dip, the baba ghanoug of Egypt, but suitably short on tahini and long on garlic.
Tabbouleh: dressed with tangy pomegranate extract and lemon, couscous, flatleaf parsley, veggies and onions come to dazzling life.
Pickles: cucumbers and carrots, both in a lemony dressing, plus local Lebanese olives.
Plus flatbread and cabbage (for the dieter) to mop the whole lot up.
Mains? The shish tawouk was perfectly spiced, while my half-kilo of grey mullet ("dorade") was fried to utter, crispy gorgeousness on the outside and tender softness on the inside: both came with crispy fried flatbread and a garlicky sauce.
Completed with coffee, plus a slab of fresh watermelon, it was, in fact, a most excellent homely, hearty, taverna meal, with nary a drizzle of jus in sight.
And, in fact, for a heritage restaurant on the harbourfront, I'd say $25 per head is decent value.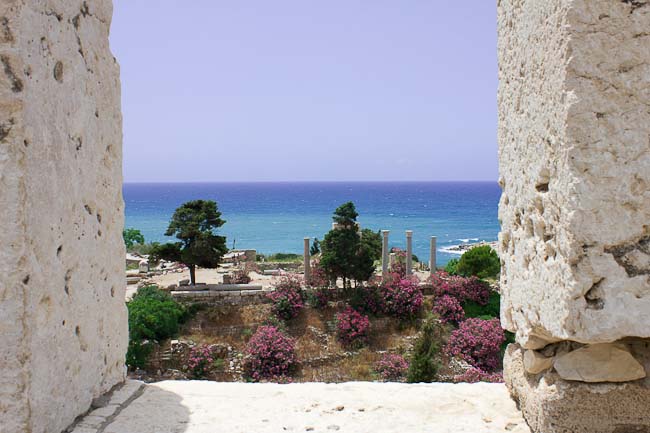 As were, for that matter, the ruins themselves. In both cases, you're paying for the view, the atmosphere and the history.
---