Stretchy, Super-Cool, Turkish Ice Cream!
Turkish ice cream is different.
Not just because, in the tourist towns, there are men in costumes working magic tricks with it for the kids. Though that's pretty special.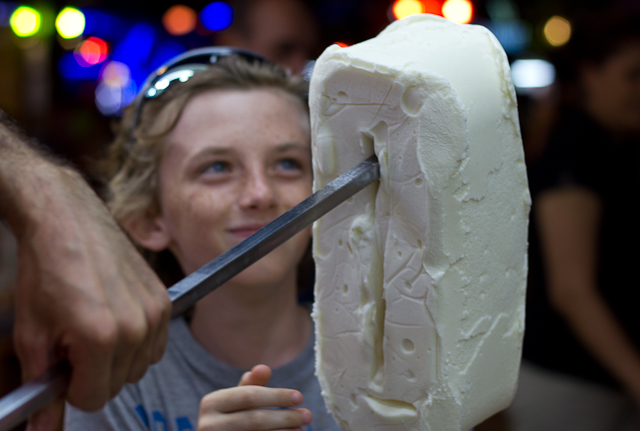 "Opa!" they cry, as they whisk a wodge of icecream away from the cone, leaving a giggling child with empty hands.
"Opa!" again, wielding the long metal pole, carving shapes of all kinds out of this weird slab of stuff that, despite heat in the high 30s and humidity around 80%, refuses to melt.
"Opa!" and, finally, after whirls and permutations and last minute snatches, the cone, and the ice cream, comes to rest in the child's hand.
As my son has it, "It wouldn't be Turkish ice cream without a man doing magic tricks!"
In fact, what makes Turkish ice cream different is precisely what makes the men work their magic so beautifully.
Those long metal sticks were originally used to painstakingly knead the ingredients of Turkish ice cream (dondurma), into a substance so stretchy you can actually skip with it, yet bizarrely resistant to melting.
Traditionally, it's made with milk, sugar, salep flour and mastic gum. Salep is a thickening agent, a flour made from the root of a type of orchid. Mastic is the resin of a type of shrub, related to the pistachio tree, with a piney scent and flavour (it's this that's at the heart of mastika liqueur).
But, paradoxically, it's more the salep than the mastic that gives Turkish ice cream its stretchiness.
It's this substance, too, that you'll find in the deliciously creamy milk dessert of the same name, served across the Middle East.
Now, because salep comes from the root of an orchid, which is resistant to farming, most ice creams today use guar gum, a commercial stabilizer that contains almost the same types of starch as salep, that coil up, bonding milk tightly, when they are frozen – and, for a bonus, seems to control the freezing point as well.
Because, yes, not only is Turkish ice cream super-stretchy. It takes a good long while to melt as well.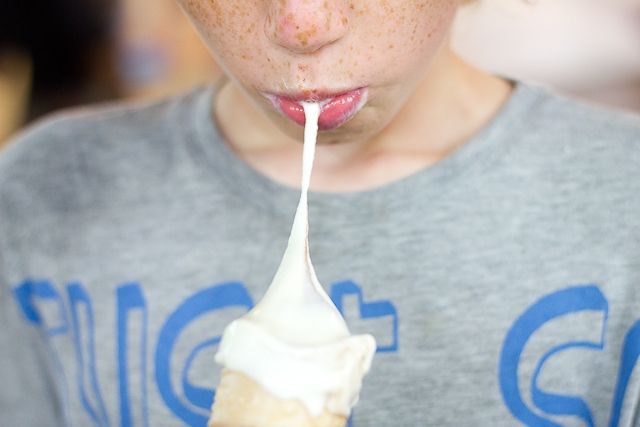 How stretchy is Turkish ice cream?
Well, even the streetside stuff made without the authentic salep will stretch a good few inches, which would be a decent pull for chewing gum (although you need more of a bite than you do with chewing gum to get that stretch)…
Yet it doesn't taste like chewing gum, or feel like chewing gum.
This is a beautifully smooth ice cream that just seems to hang around in the mouth that little bit longer. It's not chewy. Just stretchy.
And very, very cold.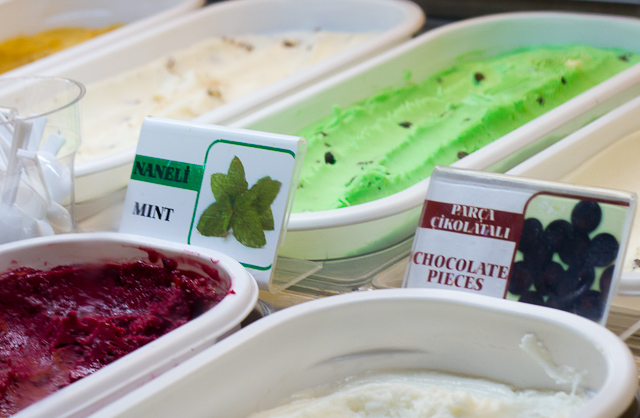 You'll find dondurma (Turkish ice cream) in a welter of flavours. The old favourites of chocolate and vanilla, the Western Mediterranean classics of pistachio, raspberry and strawberry, and Turkish specialties such as cherry (the plant originated here) and mulberry. Though mastic flavour seems to be almost vanishingly rare.
And if ever an ice cream was designed to bring out your inner child, this one is it. You'll find it at any resort in Turkey, but, despite the Ottomans ruling great swathes of the Middle East and eastern Mediterranean, and despite the welter of Turkish restaurants in London, Berlin and elsewhere, I've yet to see it anywhere else.
Have you?
---
Traveling in Turkey? You can still connect with a Windows Desktop from CloudDesktopOnline.com and share files online with CloudAppsPortal.com.
---