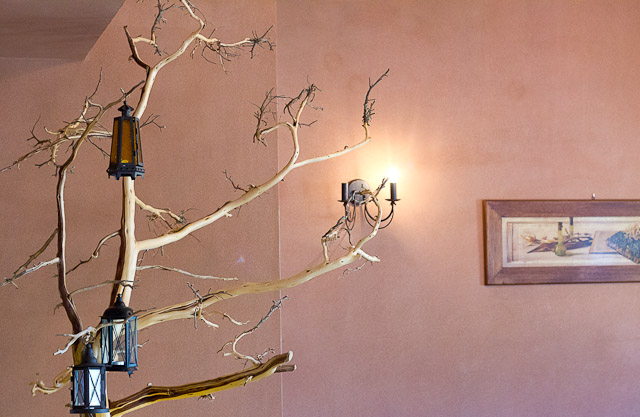 If you stuck to the tourist trail in Greece, you could be forgiven for thinking that Greek cuisine, in its entirety, comprised souvlaki, moussaka, Greek salad, stuffed vine leaves from a tin, rubbery kalamari, watery tzatsiki, chips and over-priced, under-sized fish.
And that would be very, very sad.
A trip to any local hole in the wall – any backstreet place with shallow metal dishes of food kept warm behind the counter and no menu — will greatly improve matters, as will high-end places such as Balthazar in Athens.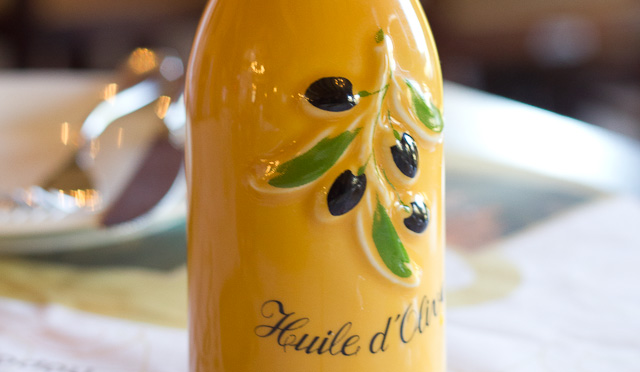 But the best country cooking I've come across in eight or so visits to Greece is found perched atop a fertile gorge in Dimitsana, Arcadia, at a place called Sto Kioupi.
And at round about 20 euros a head for two courses, fruit and a little local organic wine, it's stunning value too.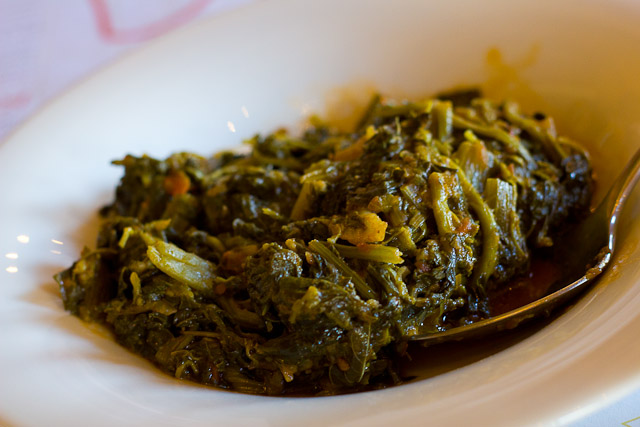 Let it hereby be written: Sto Kioupi is not a place for vegetarians – where in Greece is?!
Mind you, the wild greens and feta cheese pie (hortopita), giant beans in tomato sauce (gigantes) and bouyiourdi (cheese and vegetable bake), plus seasonal salads, greens and Arcadian cheeses will hit the spot.
Run by two brothers, one front of house, one in the kitchen, Sto Kioupi about big – nay, huge! – hearty, rustic flavours, seasonal, local ingredients and dishes firmly rooted in Arcadian country cooking, in a surprisingly upscale interior.
There's a quick menu of safe and simple choices such as chicken fillet, burgers and (of course) souvlaki for the less adventurous eater, but Sto Kioupi is really a place to try new things.
Greens (horta) are stellar here: picked wild and served with lemon and olive oil in winter, the summer version, of leaves from the garden, came sautéed with fresh tomato, spices and a hint of preserved orange.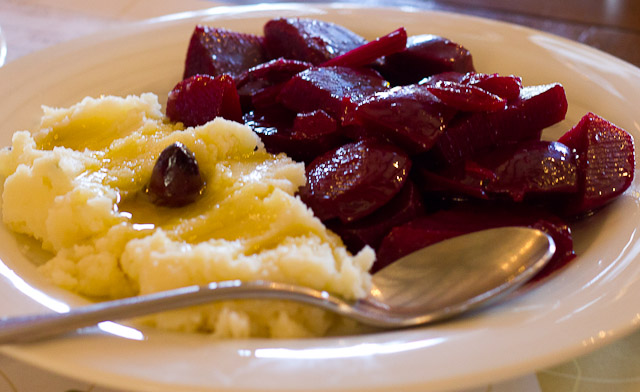 And, for anyone who thought that only Slavs ate beetroot, a salad of sharp, smoky pickled beetroot with a cool mash of potatoes and garlic, like a mild skordalia, will prove transformatory.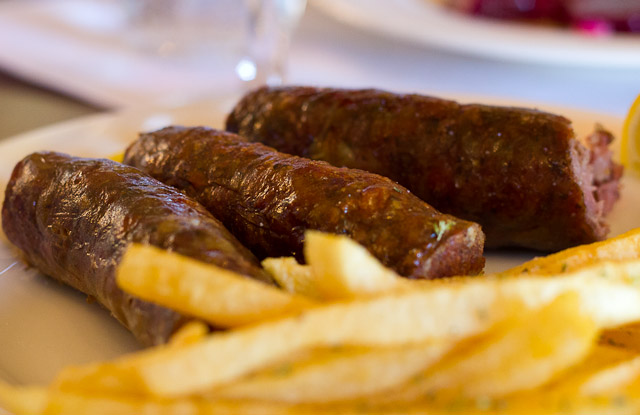 I'm a sucker for sausages. The country sausages (loukanika) here are bursting with pork, preserved orange and spices, while the goat soup, I'm told, is to die for.
Yes, goat.
Now, goat is one of those meats that polarises people, partly because it's easy to have one bad experience with it that will put you off for decades (mine was in Mauritania), and partly because of its famously, ahem, catholic diet.
Done well, as in Jamaican curry goat, the Indonesian spicy goat soup known as kambing gulai, or anything on the menu here, it's an intensely-flavoured meat: try and imagine a slightly gamey hybrid of beef and lamb. A rib rack of kid roasted with local oregano was eye-openingly succulent and tender.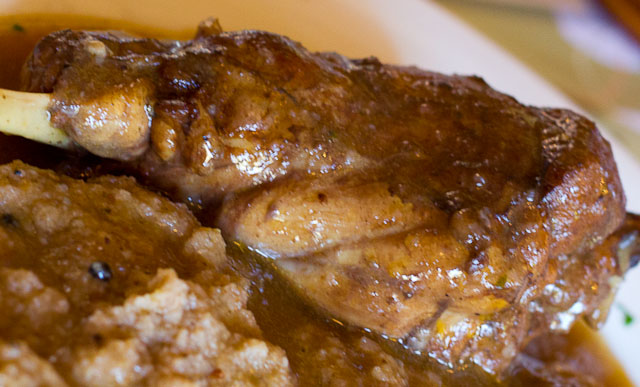 When hunting season comes around, Sto Kioupi offers wild boar and venison, cooked either stifado style with baby onions or with a wine and tomato sauce. With a month to go before hunting season, though, I opted for probably the biggest, juiciest rabbit I've ever eaten, served with a vast mass of the traditional garlic-walnut sauce, skordalia, soaked in a rich gravy.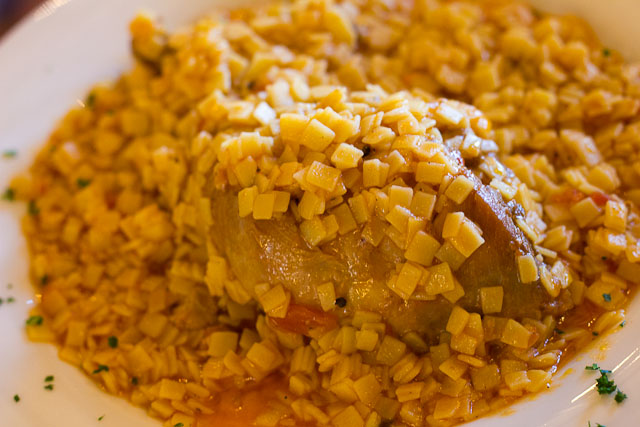 Rooster (kokorda) is a traditional dish in Arcadia, its meat having a dark intensity that goes beyond anything even the most freerange of organic chickens can achieve. Here it comes in a wine sauce with pasta, perhaps not the most successful combination on the menu: it's a big, but heavy flavour that needs a tangier, spicier accompaniment.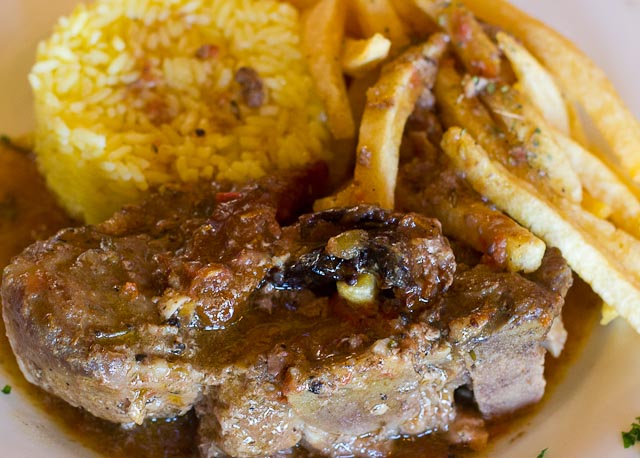 We also enjoyed a gigantic hunk of pork cooked "gastra" (in the oven, with sun-dried tomatoes), and a dish of slow-cooked beef with roasted tomatoes, before squeezing in some seasonal fruits (on the house).
Should you manage to find room for dessert – perhaps baklava, custard pie or halva? – you'll most likely have a thousand calories or so to burn off.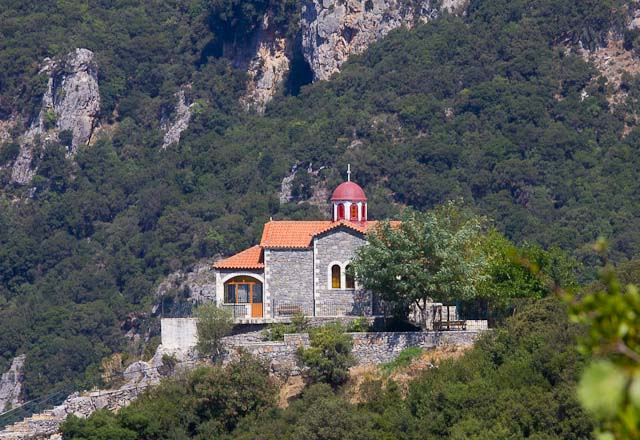 No problem. There are some absolutely splendid walks down the Lousios Gorge, home to ancient monasteries, Byzantine churches, ruined powder mills and a genuinely fascinating museum of water power, complete with tanneries, not to mention the ruined baths and temple of ancient Gortys.
Sto Kioupi, Main Street, Dimitsana, Arcadia, Greece.
Email: stokioupi AT hotmail DOT gr
Tel: +30 6974 451029
Tagged: arcadia, beetroot, cooking, country, dimitsana, greece, greek, rabbit, restaurant, review, rooster, sto kioupi