Food for a Quid: Spicy Buff Momo, Kathmandu, Nepal.
You don't have to spend long in Nepal to realise that momo make the world go round: delicious, meaty dumplings in a super-light dough, they're reminiscent of the northern Chinese jiaozi, and arguably ancestrally related to all the filled pastas of Europe from Turkish mantı westwards.
Traditionally, momo are served either steamed, fried, kothey (fried on one side only), or in soup, but nowadays they are also served "spicy", AKA, in sauce.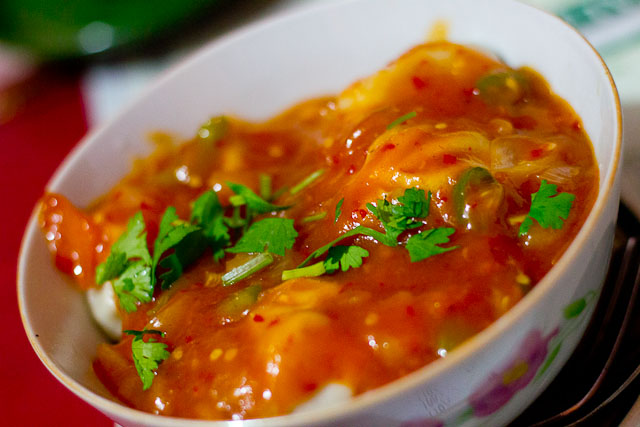 These are "buff" (buffalo meat) momo, served in a sauce of tomato, bell pepper and chilli peppers at the excellent Momo Star in Thamel, Kathmandu, for 130 Nepalese Rupees.
The verdict? Buffalo makes an outstanding momo filling, the best alternative to pork out there, and the dumplings are succulent and juicy, with a flavour-packed filling. The sauce is simple and unsubtle, a variant on the pasta sauces tourists brought with them, and could do with a bit more by way of herbs and flavouring: the momo would arguably work better served with vinegar, jiaozi style.
All in all, though, it's a filling, nutritious, flavoursome meal. Although I think Momo Star's more traditional variations on the theme are better.
THE VERDICT
Cost: 130 Nepalese Rupees (93p)
Flavour: 6.5/10
Presentation: 6/10
If you're in Kathmandu, you can find Momo Star at the Thamel Road end of Z Street, on the left as you walk down from Thamel Road.
---