Food on the Everest Base Camp Trek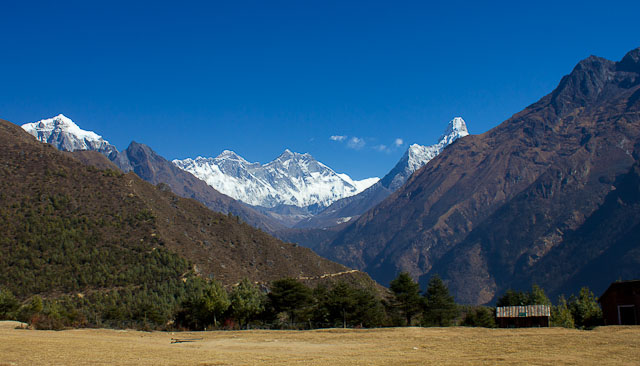 My apologies for the abysmal lack of updates over the last few weeks. I've been trekking in the Himalayas, and, while there's more internet than you'd think up there, there really isn't a lot.
And so, in lieu of more appetising material, I bring you the answer to the question everyone's asking, "What's the food like on the Everest Base Camp trek?"
Not wishing to give the game away too much, when I first saw the fat, juicy Himalayan Snowcock (it's a bird, you dirty-minded people!) wandering the hillside, the first thought that entered my mind, and the first thing that came out of my mouth was, "That looks tasty!"
They are, apparently, delicious.
Which is more than can be said for most of the food on the Everest Base Camp Trek.
---
To be fair, it's not that the food on the Everest Base Camp Trek is exactly bad. And I'm told the range has improved beyond recognition over the last 15 years or so.
It's the repetition that begins to pall, and the range becomes increasingly limited the further up you go.
By about day 6, you'll find that you know the menus of every lodge by heart.
And, as budget trekking lodges achieve their 200 rupee ($2.20) room pricing by insisting that you eat both breakfast and dinner in their restaurant, you're unlikely to be able to shop around for food.
So… What to expect?
---
Ironically, given the electricity situation in most of Nepal, you can buy T-shirts saying "Dal bhat – 24 Hour Power".
And dal bhat tarkari – a soup of lentils or, higher up, millet with rice and a vegetable curry – is the staple trekking food. Sherpa stew, a mess of pasta, vegetables and meat if it's about, is also good fodder.
Meat becomes rarer the higher up the trail you go. While Lukla and Namche Bazar feature sophistications such as espresso coffee, imported gin, exotic curries, pizza and meat that's not yak, most of the time you are looking at progressively duller combinations of starch, a very limited range of seasonal vegetables, and egg and/or nak cheese.
You can have fried potatoes with veg, fried potatoes with egg, fried potatoes with cheese, or fried potatoes with all or some of the above. You can have noodles with veg, noodles with egg, noodles with cheese, or noodles with some or all of the above… Other starch options are rice and pasta, known here as macaroni, and, at lower elevations, spaghetti with tomato sauce.
Momo made with either tinned tuna or vegetables sometimes feature, as does the regional cold cure, garlic soup, and, very occasionally, yak curry. Breakfast comprises pancakes and porridge.
Fundamentally, food on the Everest Base Camp trek comprises gigantic piles of carbohydrates with the odd hit of vegetarian protein. It does the job. But, Jesus, after a few days it becomes tedious.
---
Which is when the Yak Sizzler, a dish I believe to be unique to the better-touristed regions of Nepal, comes in bloody handy.
What is a Yak Sizzler? It's a sizzling hot plate with a slab of rapidly frying yak, served with a handful of chips (potatoes used to be central to the Sherpa diet, until they became able to afford rice and tourists replaced tubers as the cash crop), a selection of vegetables and a gravy packed with MSG-goodness.
It arrives at the table in a terrifying cloud of steam and, at least at the beginning of your trek, it really, really hits the spot.
---
Planning to trek to Everest Base Camp? Read what gear you need to take here. Or, if Kilimanjaro is more your style and speed, check out this great guide to climbing Kili, Africa's highest peak: you'll find that you typically eat with a bit more variety and style than you do on the EBC trek.
---