Restaurant Chartier – the Perfect Parisian Bistro
One thing everyone has to do when swinging through Paris, however quickly, is eat steak frites at a classic Parisian bistro. And, thanks to a tip from Kate McCulley, we did exactly that, at Restaurant Chartier.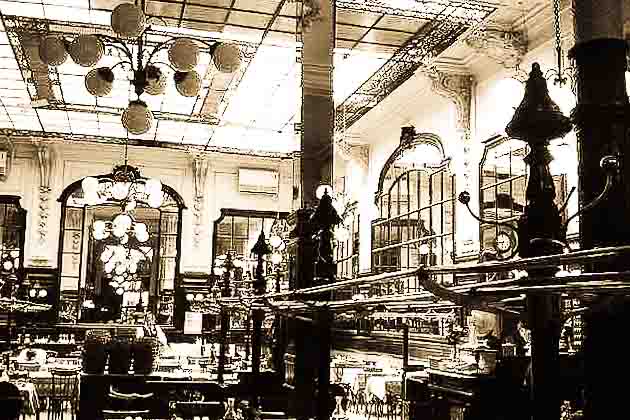 Set in the heart of Montmartre, in a listed building, Restaurant Chartier seems to have changed little since it was established in 1896 – it's had only four owners over the entire span, in fact. Think dark wood, gas-lamp style lighting, coat and hat racks that run the length of the room, plus big mirrors and a touch of rococo plaster, and you won't go far wrong.
So far, so expensive-sounding, right?
Well, wrong, in fact. For, in addition to being historic, Restaurant Chartier is also stunning value. I very much doubt there's another spot in Paris this central where you can eat bloc de foie gras followed by steak tartare with frites, wash it down with a glass of house wine, and still have change from 20 euros.
The menu is replete with decades worth of classic bistro faves, running from ye olde prawn cocktail Marie Rose through to calf's head in gribiche sauce. Read the menu here, and weep.
And the food? It's good. This isn't haute cuisine – it's fast food done extremely well, using good, fresh ingredients, in the classic French bistro style. You'll find fancier, better presented dishes elsewhere, but at that price, for that environment, I'd be surprised if you'll find better value anywhere.
One disappointment? The cheeses. These are served fridge-cold, killing the ripe scents and flavours that are, if you ask me, the whole point of French cheese. If you're craving a stinky Pont L'Évêque, or a pungent Roquefort, stop by one of the cheese stores up the road, pick up some French bread, and do the picnic thing.

Restaurant Chartier
7 Rue du Faubourg
Montmartre
75009 Paris
Tel: +33 (0)1 4770 8629
---
Picture credit: Restaurant Chartier by Alex de Carvalho.
---