Merah-Putih: the Best Indonesian Fine Dining in Bali
Indonesian food doesn't have the best reputation. For all its diversity – and an archipelago with over 17,000 islands, over 700 languages and no fewer than 6 official religions is pretty darn diverse – it doesn't seem to travel well. There are more Ethiopian restaurants than Indonesian restaurants in London or New York – and there's pretty darn few even in neighbouring Singapore.
Further, there is only a very bare handful of restaurants on Bali that offer Indonesian fine dining – and most of those are really doing Balinese fine dining (or fusion, with the odd tropical ingredient). Which is why Merah-Putih, which serves dishes from across the archipelago, is an absolute godsend.
You see, when you live overseas, you always want to introduce visitors to the food of your adopted home. And, when your adopted home is known for Bali belly, that can be a risky business. Once you've taken someone to your favourite street stand or warung for sate lilit, babi guling, sop buntut, coto Makassar, or whatever, it's going to take the fall for any adverse gastrointestinal events.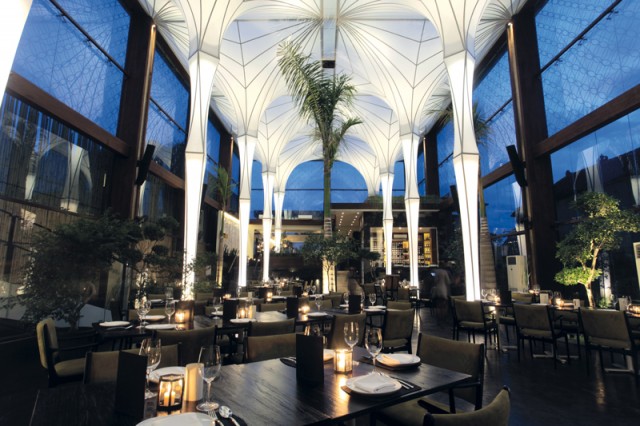 Merah-Putih in Seminyak solves all these problems. It's pan-Indonesian fine dining, served variously as poshed-up classics and modernist twists on the classics, in a towering, airy cathedral of a room in the heart of Seminyak. Everybody's going to be happy, nobody's going to get sick and, especially at lunch, it's phenomenal value – particularly for that iconic room.
Well, it's incredible value (35,000–175,000 IDR/ US$2.70-$13.50 per dish) IF you can fend off the chaps with the wine and water refills. For if there's one criticism I have of Merah-Putih, it's the persistent upselling of liquids by waitstaff who can't answer basic menu questions such as "Where in Indonesia does X dish come from?"
But, whatevs. The food here is well-done and imaginative: the signature merah-putih rice, with flecks of red (merah) amid the white (putih) is the best rice I've ever tasted. I loved the transformation of the scrappy, offal-y, delicious goat curry known as kambing gulai into a smooth, sleek, velvety mountain of sloooooow-cooked lamb shank; I love the perkedel fritters reimagined with soft-shell crab; and the octopus is to die for.
Desserts are clever, too, and lovely to look at, utilising ingredients from torch ginger through to palm sap and hibiscus, while nutmeg fruit makes an outstanding addition to a tweaked Dark 'n' Stormy in the slick upstairs bar.
Overall, Merah-Putih is a smart, fun take on Indonesian cuisine by a young chef who loves it – and, as such, I recommend you visit.
Merah-Putih
100x Jalan Petitenget, Seminyak, Bali
+62 (0)361 846 5950
merahputihbali.com
---