Don't Go to Italy Without Trying These Ten Amazing Food Experiences
For many of us, the main purpose of any trip to Italy is food. Yes, we'll pay homage to temples and sculpture, to churches and galleries, to mountains and lakes, to canals and aqueducts, to walled cities and crumbling palazzos, but much of the time we'll be worshipping at the altars of wine, cheese and pork products. Whether you're headed to Eataly on
a whirlwind multi-stop tour
or a serial guest in La Bella Italia, here's ten food experiences you really should try.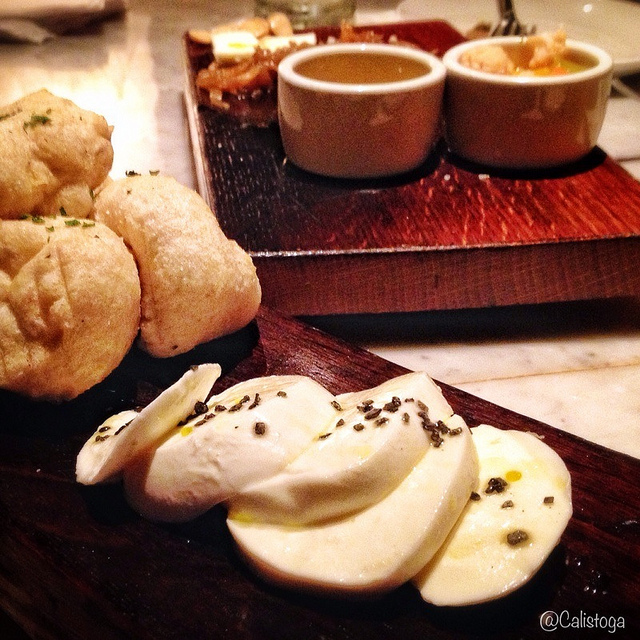 Watch Mozzarella Being Made
If you've only ever tasted pizza mozzarella, then watching the real stuff being made is bound to be a revelation – not least for the kneading and stretching which gives the finished product its shiny texture. It's easy to visit artisan producers around Salerno if you speak enough Italian to make an appointment – or head to Barlotti, near the stunning temple of Paestum, where there are daily tours and tastings.
Eat Ragù in Bologna
Spaghetti Bolognese ("spag bol" if you're British) is many Anglo folk's first introduction to Italian food. The dish did, indeed, originate in Bologna, but the authentic Ragù alla Bolognese is a very different entity – not least because it's typically served with tagliatelle (wide fresh egg pasta), and the signature ragù is glossy, thick and oily compared to the tomato-laden British version. Just stroll down Via Augusto Righi and pick a trattoria.
Learn How to Make Pasta
A trip out to an agriturismo – a farm converted into a foodie holiday experience – is a must-have Italian food experience. At the lovely Podere San Giuliano outside Bologna, they grow their own tomatoes for passata, among many other things, a celebrity chef heads up the restaurant, and the rooms are tranquil and simple.
Taste Balsamic Vinegar
That stuff you've got in the cupboard? It might be balsamic vinegar of Modena, but it's almost certainly not the authentic, artisan variety, which can range in flavour from something akin to pomegranate syrup through to a rich, mellow vinegar concoction (more here). The town of Spilamberto, outside Modena, is home to the Balsamic Vinegar Museum, not to mention a bunch of balsamic stores, most of which offer tastings.
Order Carpaccio in Harry's Bar
A Bellini in Harry's Bar, Venice, is a tourist rite of passage. But Harry's Bar didn't just create the Bellini, a blissfully smooth blend of Prosecco and peach purée, but the carpaccio, a dish of wafer thin raw beef with a mustard-mayo dressing, apparently for an aristo whose doctor had put her on an early version of the paleo diet. It's delicious.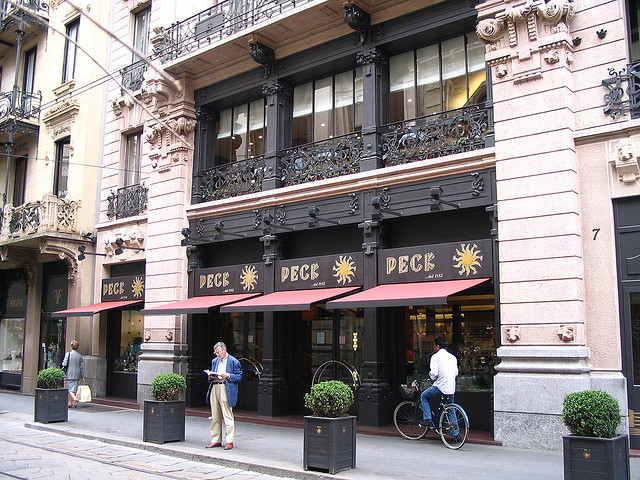 Shop at Peck
Think Harrods Food Hall, but in Milan, and without (most of) the tourists – so, classier, more affordable, and altogether better, with a deli counter that will have you swooning. It would be easy to get extremely carried away here, between the wild strawberries and the pork and cheese feast – note there's a related eatery next door. (And, yes, you can shop online – www.Peck.it.)
Eat a Ham Sandwich
The perfect cure, on the perfect ham, can make the humble ham sandwich – scoffed at a suitably humble "bar", the alcohol-friendly cafes where many Italians eat breakfast – a thing of absolute beauty. Our personal favourite? 40-month aged San Daniele prosciutto in I Rusteghi – yet, whether it's a high-end enoteca like I Rusteghi or a neighbourhood joint, provided you're off the main tourist drag it's hard to go wrong.
Scoff Pizza in Naples
You'd be gullible to believe the old story that the Margherita pizza was named by a Neapolitan pie-maker for Queen Margherita – even if Pizzeria Brandi does display a letter from the Queen, most of Italy didn't eat pizza till the 1960s. That said, Naples is the home of pizza, while Pizza di Napoli is found across Italy, so Brandi makes as good a choice as any.
Dine in an Italian Home
Ideally, of course, your sojourn in Italy would involve making friends with a perfect Italian family, or sophisticated Italian couple, who would invite you to dine in their home. Homefood.it makes this possible: guests pay for formal (or semi-formal) dining in often quite spectacular residences, with their hosts and a few passing tourists.
Try Something Different
I'm a huge fan of trying things that seem like they should be revolting just to see whether they are or not and, given every region of Italy seems to have its own special things to do with tripe (that's a part of the stomach of multi-stomached, herbivorous animals), why not give that a go? Alternatively, opt for ossobucco, the luscious calf-shin dish with about a bazillion calories. Do eat the marrow, though: that's the whole point.
---
Image credit:
Mozzarella @ Barolo Calistoga
by
Peter Stetson
and
If You're Ever in Milan, Do Yourself a Favour
by
Bruce Turner
.
---