Paella in Barcelona: 7 Portes
There are two things everyone needs to know about eating paella in Barcelona. Firstly, paella is not a Catalan dish – it comes from Valencia, 300-odd kilometres down the coast. And, secondly, paella is a lunch dish. Eating paella for dinner in Barcelona, while not quite as bad as ordering a cappuccino after dinner in Rome, is not something a local would ever do.
So, paella for lunch it was. And, if you like landmark restaurants that are steeped in history without being knee-deep in TripAdvisor readers – I love 'em, – I can thoroughly recommend 7 Portes (Set Portes), a very, very classic eatery that first opened as a cafe back in 1836, and has been operating as a restaurant since 1929.
Within spitting distance of the Gothic Quarter yet just north of Barceloneta, 7 Portes sits in the grand Isabel II promenade, a covered walkway whose vaulted ceilings just ooze history. You can eat outside, in the shade of the portico, but the interlocking series of rooms within, complete with timber ceilings, chequered tiles and starched tablecloths, make a better choice.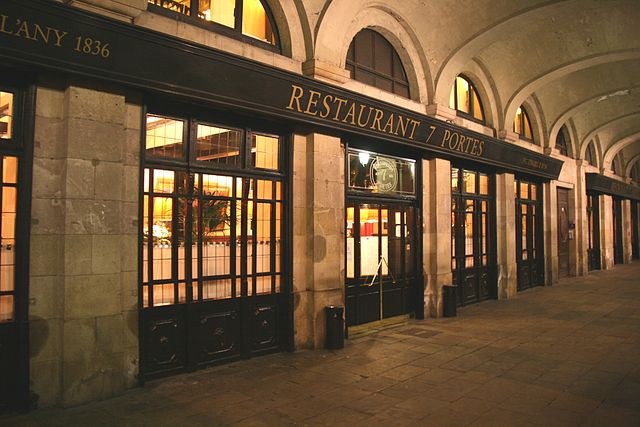 The standard-size paella, served in the eponymous pan, will serve two Mediterranean appetites or one hungry person, and all seven variations on the paella theme, from meat to veggy via all points in between, come in around the 20-euro mark, though you're free to order larger sizes. If you're in funds, the wine list is well worth exploring – even if you're not, the house is very drinkable, while the staff will happily recommend something special by the glass.
We went for the signature Rich Man's Paella, invented for the Barcelona dandy Juli Maria Parellada in the late nineteenth century. Lightly saffroned, super-smooth rice maintained a hint of bite and intense stock flavours; substantial nuggets of crayfish, chicken, sausage and mussels mingled with veggies. Accompanied by a tangy mixed leaf salad, it was pretty darn textbook.
Of course, there's a lot more to 7 Portes than paella – the seafood selection is quite stunning – but if you're craving paella in the heart of Barcelona, do please swing by. For lunch, natch.
---