10 Indonesian Dishes You Have to Try
With 17,000 islands to choose from, including the original homes of nutmeg and cloves, Indonesian food is insanely diverse. Though you wouldn't necessarily know it from what presents overseas, there's more to Indonesian cooking than nasi goreng, the fried rice dish that's the local equivalent of the sandwich, and sambal, the glorious chilli-based sauces that spice up every single dish.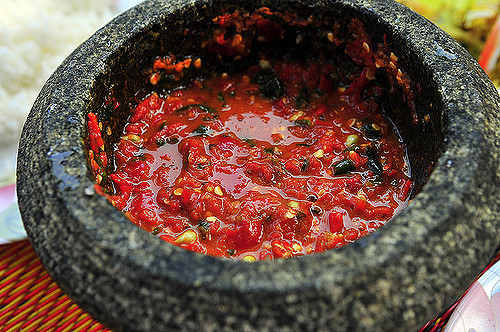 From Padang food, with its curries and chilli, to the tangy herb-led flavours of Minahasa cooking, from Bali's indulgent duck and pork through to Java's beef-led cuisine, it's worth taking the time to discover Indonesian food. You can try a Balinese cooking course (see here), or simply look out for these ten classic dishes.
Babi Guling
A Balinese ceremonial dish by origin, this sucking pig delight is traditionally a morning dish. Whether you're ordering a whole one for delivery to your home, or stopping by a babi guling joint for soup, meat, skin and all the trimmings – which should include sausages and various pieces of innardy goodness – this is a must-try.
Rojak
Like gado-gado, the fresh veggie salad served with a spicy peanut sauce, you'll find rojak served in various permutations across the archipelago. It's essentially a fresh fruit salad served with a chilli-led dipping sauce: that could be a classic tangy sambal, or a blend of rich palm sugar with sesame and just a hint of chilli.
Perkedel
These little corn fritters, which take their name and concept from Dutch frikadeller, come in a range of flavours, of which the dominant ones are sweetcorn (jagung) and potato (kentang). They're a staple of Padang cooking, and delicious at any time of day, particularly when dipped in sambal hijo, the mild, cooked, green chilli sambal.
Bebek Betutu
Like babi guling, this lovingly slow-cooked dish of duck with spices was originally a Balinese ceremonial dish, served elaborately with cones of festive yellow rice. Today it's often made with chicken as well: whichever bird you choose, the rich smoky flavour pairs perfectly with a fresh sambal and urap, a veggy dish that usually contains green beans, beansprouts and coconut.
Beef Rendang
With its home in Sumatra, this flavour-packed coconut-based curry is an Indonesian classic. You'll find souped-up versions in high-end restaurants and tourist-oriented eateries, but I like the dry, salty, spicy version you'll find in Padang eateries – look for the sign reading Masakan Padang, and a range of bowls waiting behind glass.
Kambing Gulai
Love rice and peas with curry goat? Then kambing gulai will suit you down to the ground. This spicy goat curry, made with coconut milk, is the archipelago's answer to the Jamaican classic. If you're not a fan of nose-to-tail eating, order in a tourist restaurant, not a local joint: if you like offal, dig in.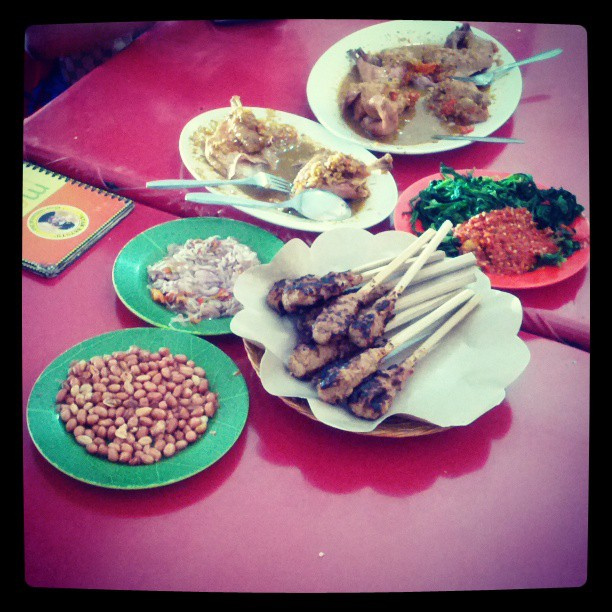 Sate Lilit
You'll find variations on sate (or satay) across the archipelago – do note that the peanut sauce should be spicy, rather than the bland peanut butter stuff you'll find served outside Indonesia. In Bali, don't miss sate lilit, a lemongrass-led spicy minced satay that's usually made with either pork or fish.
Kelabon
Once you pop, you just can't stop… These delectable little balls of pandan-flavoured rice dough are full of liquid palm sugar and grated coconut, for a flavour explosion that will detonate any attempts to lose weight.
Ayam Woku
One of a range of tangy, spicy dishes that originate in Minahasa, North Sulawesi, woku blends lime, red ginger, galingale, turmeric, chilli and lemon basil into a deliciously lemony, spicy sauce that's perfect with chicken or big fish.
Pallu Basa
If you're only going to eat one soup in Makassar, which is famous for four separate soups, make it this one. Pallu Basa is a beef soup with lime, spices and toasted, grated coconut, making a dense, nutty, lightly sour blend that's just to die for: intensify the spice and sour with lime and sambal if you like.
Want more Indonesian food? Check out the best restaurants in Ubud.
---
Picture credits: Beef rendang by Tummyrumble, Sambal Belacan by Irwandy Mazwir and Betutu chicken and sate lilit by Michel Alexandre Salim.
---