Four Chef Hat Restaurants to Try in Brisbane
Food is no laughing matter in Brisbane. Blessed with a wealth of local produce, and some ambitious chefs, Australia's third city is making up for lost time. Don't know where to start? Here are four Brisbane eateries that have all been recognised with the Australian Good Food and Travel Guide's Chef Hat awards.
ESQUIRE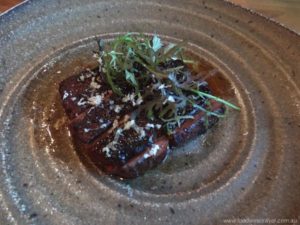 Image by Food Wine Travel
They say you get what you pay for, and Esquire's exquisite food and impeccable service are worth every cent. Modern Australian tasting menus clock in at prices ranging anywhere from $90 to $150 for between 12 and 25 dishes, the precise selection of which changes daily. Local ingredients, from shellfish to fresh fruit, feature highly in avant-garde presentations that are all beautifully plated. For the full experience enjoy wine pairing as recommended by their seasoned head sommelier.
DEER DUCK BISTRO
The XXXX Brewery isn't the only gem in Milton Road. Experience one of the best degustations in Brisbane as you try the decadent seven-course meals at the Deer Duck Bistro. Although they have an a la carte menu from Tuesdays through Thursdays, with crowd pleasers like sous-vide duck or succulent pork collar, who's going to want to order just one dish? Experience food plated to match the vintage, artistic ambience of the venue, with fresh and fragrant aromas made to tease.
GERARD'S BISTRO
Image by Gerard's Bistro
Indulgence comes in the form of a hidden treasure at James Street laneway as Gerard's Bistro serves you modern Australian flavours with a Middle Eastern twist. Feast on exotic tastes in a banquet setting and get the conversation flowing with creative drinks and exquisite wines. This isn't one of those restaurants that's all hype and no meat: the Weekend Australian, Gourmet Traveler and Financial Review have all gushed about Gerard's. Head chef Ben Williamson was awarded Chef of the Year in this year's Queensland Good Food Guide.
THE WOLFE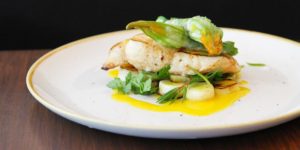 Image by Weekend Edition
Just like finding a true wolf, it takes a bit of a hunt to find The Wolfe on East Brisbane. But once you find it, it's gorgeous both in aesthetics and food. If you want to experience seasonal produce at its freshest, served in decadent dishes with the perfect balance of taste, texture, and presentation, you're going to want to try out The Wolfe for yourself. Its menu is creative, seasonal and ever-changing – and Tuesdays and Wednesdays are bring your own wine nights, so perfect for those on a budget.
If you're anything like me, then a big reason for travel is tasting your way through each destination. From markets to street food, to cafes, pubs and fine dining restaurants, you have to try them all when you're in Brisbane. While the city's a big place – and the surrounding towns are nigh-on impossible to reach by public transport – it's as easy as getting a local friend to drive you or hiring a cheap car rental in Brisbane. Trust me, the drive to discovering new places to eat and the urge for happy tastebuds is a worthy (and most likely Instagram-worthy) cause.
---