Babi Guling – Balinese Sucking Pig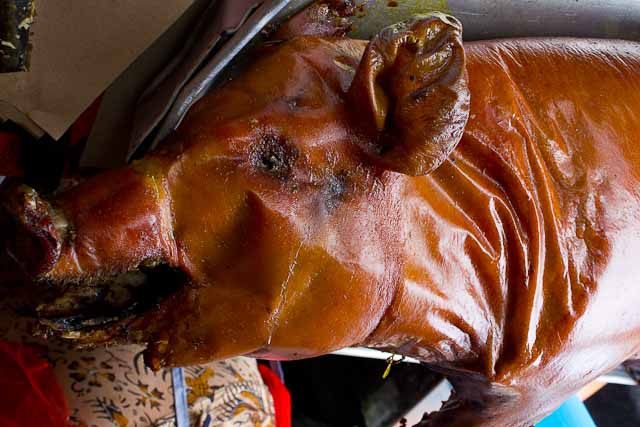 Babi guling is one of the great joys of any trip to Bali and quite possibly the ultimate breakfast dish. At least for any fan of Vitamin P.
This succulent, spicy, endlessly mouthwatering take on the classic sucking (not suckling!) pig is one of the first dishes I head for whenever I come to Bali.
Put aside your preconceptions of a late night pork fest. Babi guling is traditionally a morning dish. Head down to any market (Gianyar is most famous), and whole, gorgeous pigs of a range of sizes surrounded by a welter of types and styles of sausages will be ready-cooked long before dawn.
Some of the youngest piglets, in fact, end up as offerings for the gods. Like this babi guling, surrounded by other offerings, ready for a grand Balinese Hindu cremation.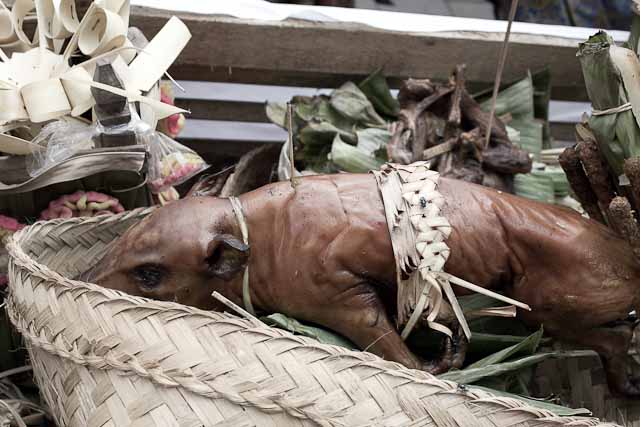 The art of babi guling lies in three areas. The first is, of course, the tender, succulent, moist meat (daging, in Indonesian), to be devoured with the fingers or, perhaps, a fork and spoon – if you can't pull it apart with a spoon, the cook hasn't done it right.
The second is the skin (kulit) – you can order this on its own, if you would like. It should be super-thin and crispy, with a delicate few seconds where the remnants of fat melt in the mouth before the crackle kicks in.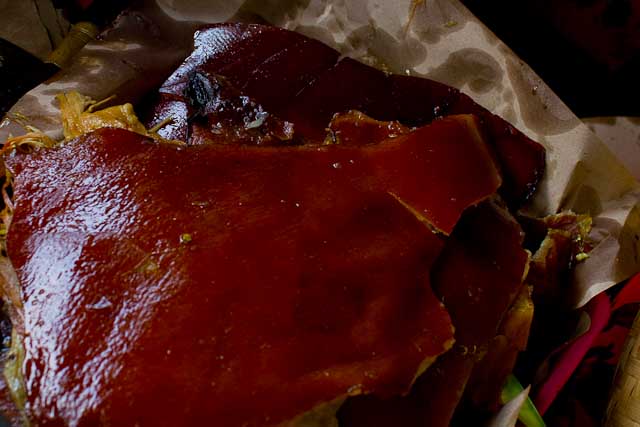 And the third is the sauce, based on the spice paste known as bumbu Bali, and including shallots, garlic, fresh galingale, fresh turmeric root and lemongrass, as well as black pepper and dried spices. This should be lightly salty and packed with flavour and peppery heat. It goes perfectly over rice.
Vegetables do not feature highly in the world of babi guling, though a few places will lacklustrely offer sayur (literally "vegetables", AKA the vegetable of the day, typically cooked in a mildly spicy sauce).
This is much more what you're likely to get: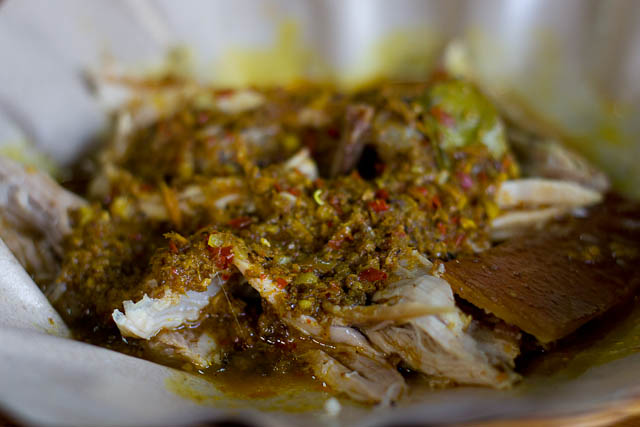 For sausages, Gianyar rules. I must admit I found the egg sausages almost as unappealing as they sound but black pudding will never seem the same again after the spiced blood sausages.
Perhaps my favourite, though, are urutan, the coarse-cut spicy sausages with a lemongrass kick. They remind me a lot of sai ua, the long, coiled sausages that are a market standby in Chiang Mai, Thailand.
Completists will also appreciate a spicy pork bone soup, or perhaps a crispy ball of spicy minced pork and rice flour.
Where to eat it? Although a few restaurants offer babi guling, this is street food par excellence. Drive down any main road in Bali at or before lunchtime and pull over at the nearest babi guling stand, or pop to Ubud or Gianyar market early in the morning.
Ibu Ari, on the Ngurah Rai bypass, does a stunning babi guling, complete with spicy bone soup, any number of fritters, and delicious gravy. I also like Men Agus, who has a couple of outlets on Jalan Raya Canggu (the road from south Bali to Tanah Lot temple), while Candra on Jalan Teuku Umar in Denpasar is also worth a look, and locals swear by Badung Market in Denpasar.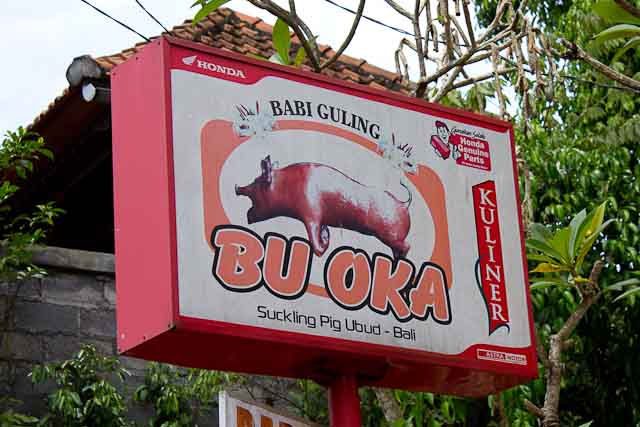 Or, though it will cost quite a bit more, Ibu Oka, in Ubud, Bali's most famous babi guling joint, continues to deliver the goods, basting pigs with coconut milk and slow roasting them over an open fire.
If you're only in town for a short while, this might be the place to go. Ibu Oka's popularity with tourists means the place feels cleaner and more hygienic than the typical roadside stand, though it's hardly sterile. Don't bother with the soup, but the meat is delish!
Of course, many tourist restaurants offer a whole babi guling as a special order for a group. But, honestly, when the streetside stuff's so good, why bother? If you do want a babi guling feast, and you're staying at a villa, do as the locals do and order a pig to be delivered.
Ibu Oka is on Jalan Suweta, off Jalan Raya Ubud, almost opposite the corner with Monkey Forest Road.
---