The Best Restaurants in Ubud, Bali
Headed to Ubud? Bali's arts, cultural and self-discovery capital boasts an amazing restaurant scene — so much so that it can be hard to pick where to eat. Current as of December 2017, this post includes (I hope) the very best restaurants Ubud has to offer. If you're interested in food, and around in April, try not to miss the annual
Ubud Food Festival
, an assemblage of things and people good and edible that began in 2015.
If you're looking for somewhere to stay, meanwhile, please do visit my post on where to stay in Ubud.
Ubud's Best Restaurants for Special Occasions
Mozaic
People bitch and moan about the prices here, but I can't see why. Chris Salans, who trained with Thomas Keller, inter alia, serves outstanding, creative dégustation menus in a dazzling, tranquil garden in leafy Campuhan. The cooking is modernist European with Balinese flavours, and this food in this setting would cost at least four times the price in most parts of the world.
Jalan Raya Sangginggan, +62 (0)361 975 768, mozaic-bali.com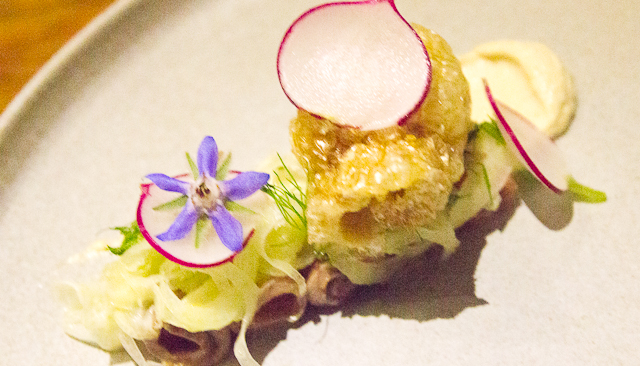 Locavore
A low-key environment for extremely creative cooking, courtesy of Ray Adriansyah and Eelke Plasmeijer. The food is beautifully presented, and based almost entirely on local ingredients, hence the name. The dégustation-only sittings are often booked up weeks in advance, a situation that their position as best restaurant in Indonesia on Asia's 50 Best is not likely to ameliorate. Order the 7-course dégustation, which comes in omnivore and herbivore, with the drink pairings: flavours are distinctly Indonesian.
Jalan Dewi Sita, +62 (0)361 977 733, locavore.co.id
Room 4 Dessert
Will Goldfarb is the pastry chef's pastry chef, a texture fiend who speaks at conferences around the world. Opposite NEKA and not far from Mozaic, Room 4 Dessert is a sexy contemporary dessert and cocktail bar. If a nine-course sharing dégustation, or perhaps a cocktail-dessert pairing, is your idea of fun, you've come to the right place. It's open from 7pm till late, and the drinks, many with housemade spirits, are amaze.
Jalan Raya Sanggingan, +62 (0)361 553 2598, room4dessert.asia
Hujan Locale
Celebrity street food chef Will Meyrick, of Sarong fame, turns his attention to Indonesia exclusively in this casual but still very special central Ubud opening. Dishes come from across the archipelago, all spun through Meyrick's technicolor pan-Asian filter. The feel is cool, colonial and relaxed, and the pricing is a little more friendly than the other event options.
5 Jalan Sri Wedari, +62 (0)813 3972 0306, hujanlocale.com
Ubud's Best Speciality Restaurants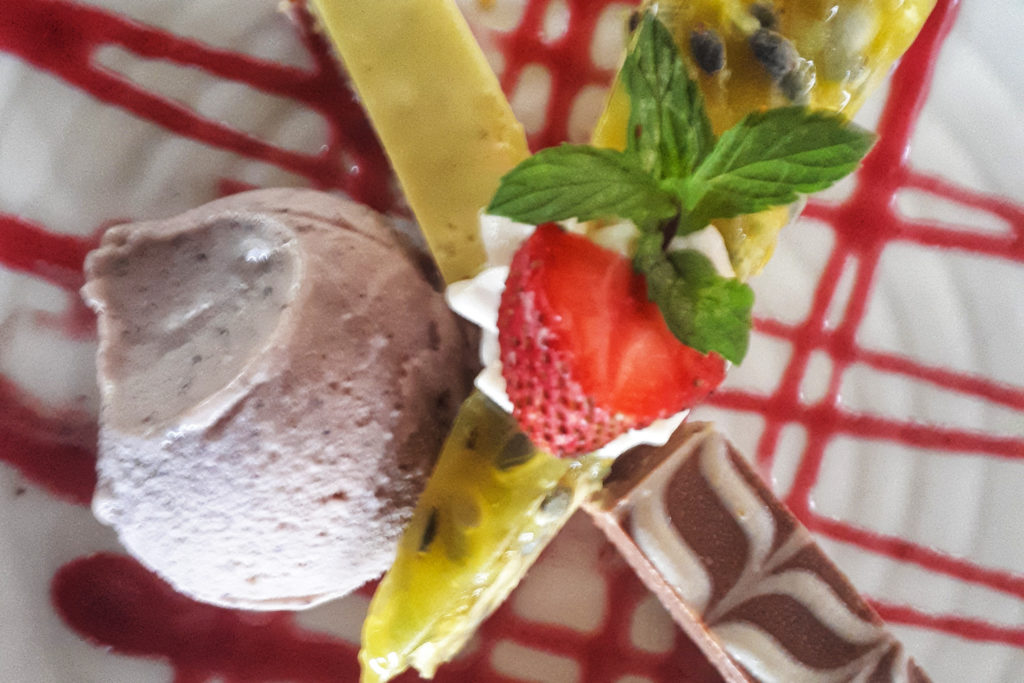 Raw/vegan: Moksa
This lovely, light and airy raw vegan restaurant looks out over the ricefields of Penestanan, complete with its own garden for home-made delights. Desserts, including a raw passionfruit "cheesecake" are standouts, but the range of mains and juices, from raw pasta through to raw tacos, continues to impress. Chef-patron Made Runatha was at Five Elements before coming here, making this a must for anyone who's curious about raw food.
Banjar Kutuh, Sayan, Ubud, +62 813 3977 4787, moksaubud.com
Steak: Café Des Artistes
Starters and puds can be a little uneven here, but the steaks and sides are simply fab. Great hunks of bleeding imported beef, served with your choice of sides and sauce: the Cafe de Paris comes with a fantastic garlic and herb butter. The garden area is cute and prettily lit.
9x Jalan Bisma, +62 (0)361 972 706, cafedesartistesbali.com
Japanese: Minami
High-end Japanese fusion – think snapper sashimi with a wakame and green leaf salad – is served in a pristine white space or the beautiful, fountain-centred garden. Japanese classics from gyoza onwards are also on offer.
Jalan Raya Sanggingan, +62 (0)361 970 013, minami-bali.com
Best Ubud Restaurants with Kids
Tutmak
The breakfasts here are stellar, with Eggs Benedict to die for, smooth lattes and good-quality bangers. The Western-Asian menu later in the day is very reliable, and the consistency, over the seven years I've been coming here, is phenomenal. A great choice with kids, who can charge around the football field while you relax with the papers, or as a place to catch up on work when you've dropped them off at Pondok Pekak.
Jalan Dewi Sita, +62 (0)361 975 754, tutmak.com
Taco Casa
The Ubud branch of the mini-chain of taco joints does not disappoint. It's a simple concept, done extremely well and very reasonably priced: order from the minimalist menu, or build your own tacos from the list on offer. The salsa and the guac are great, the meat is perfectly spiced, and staff are super-helpful. This is modern, no-frills Mexican as it was meant to be.
Jalan Pengosekan, +62 (0)361 212 3818, tacocasabali.com
Warung Schnitzel
Craving bangers and mash? Look no further! The schnitzels at Schnitzel aren't amazing, but sausages come in a range of flavours, from chorizo through to bratwurst, with every accompaniment you could wish for. No garden, but there are beanbags upstairs.
2 Jalan Sri Wedari, +62 (0)361 970 744, warungschnitzel.com
Best Indonesian Restaurants in Ubud
Nusantara
The latest restaurant opening from the Locavore team delivers dishes from across the archipelago at reasonable prices with beautiful presentation – and the menu can change as often as fortnightly. Servers know their stuff, the cocktails are as amazing as you'd expect, and as an introduction to Indonesian food it takes some beating.
Jalan Dewi Sita, +62 (0)361 972973, fb.com/NusantarabyLocavore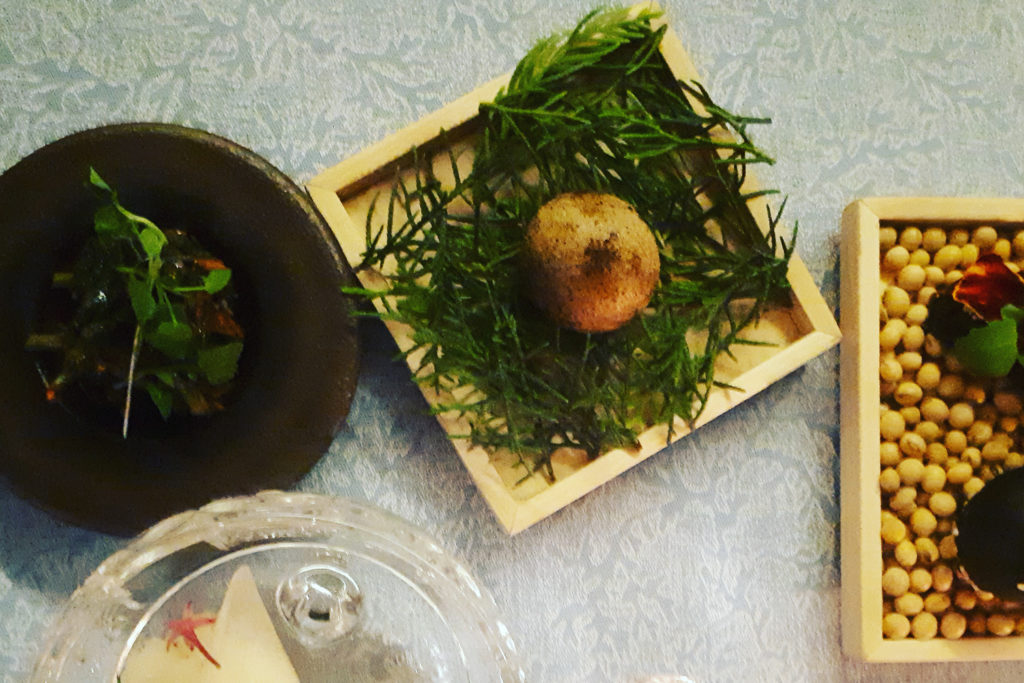 Blanco Par Mandif
If you're interested in Modern Indonesian food and have money to burn, then Blanco Par Mandif, the Ubud venture from rising chef Mandif Warokka, is well worth a look: dishes combine an Indonesian DNA with elaborate (sometimes too elaborate) platings and technique, plus there's a martini trolley to your table.
Blanco Museum, Jalan Raya Penestenan, +62 (0)361 479 2284, blancoparmandif.com
Arang Sate Bar
The sheer diversity of Indonesian sate comes out for a spin in this casual but stylish restaurant not far from the Royal Palace. You can enjoy classic versions, like the coconut sate from Madura, as well as modernist interpretations like lamb with a stilton filling or quail's eggs. All comes courtesy of Agung Nugroho, the guy that brought you Fat Gajah in Seminyak.
8 Jalan Raya Ubud, +62 (0)361 479 2199, satearang.com
Ibu Oka
People are very rude about Ibu Oka, because it's "touristy" and "expensive". This remains one of the best restaurants Ubud has — probably THE best restaurant Ubud has — to introduce new guests to the joys of Balinese sucking pig (babi guling). Hygiene is more pernickety than in a local joint, portions of meat and skin are much larger, there's much more space and there's a drinks license. If you're after authenticity, however, get up at 6am and go to Payangan Market, or head out to Mas.
Jalan Suweta (by the Royal Palace), 11am-6pm daily
Bumbu Bali
A Western chef with a Balinese wife champions traditional Balinese cuisine, with high-end style. The restaurant is a longstanding Ubud favourite, while the cooking courses are fantastic.
Jalan Monkey Forest, +62 (0)361 976 698, balifoods.com
Puteri Minang Padang
Padang food is a spicy style of cooking that originated in Sumatra but has since spread across the archipelago: it brought us beef rendang, inter alia. There are tonnes of Padang food joints in Ubud, all with their wares on display in the window, but Puteri Minang Padang has a reliably large selection at typically bargain basement prices.
Jalan Raya Ubud (near Ganesha bookshop), no phone, no website
Best Spots For Drinks in Ubud
Do see my post Where to Go for a Drink in Ubud for more on this.
Night Rooster
If you love the cocktails at Locavore, you'll love their new bar, just around the corner from the original restaurant over Golden Monkey Chinese. Bartender Raka works his flavour magic to craft concoctions using home-made liqueurs, liquor and juices, some a homage to the tastes of the archipelago, others more classically styled. Cocktailians visiting Ubud should go here and Room 4 Dessert, end of story.
10 Jalan Dewi Sita Ubud, +62 (0)819 9917 1886, locavore.co.id
No Más
Ubud is not known for its buzzing late-night scene – even during the Bali Spirit Festival, the hippie drummers turn in early. But if you're after something a bit more civilised than stalwart CP Lounge, head to No Más, on Monkey Forest Road, where the scene usually runs till after midnight.
Jalan Monkey Forest, Ubud, +62 (0)361 908 0800, nomasubud.com
Seniman Coffee Studio
This delightful coffee shop offers wares from all over the island, with their provenances explained, plus an airy terrace that's absolutely perfect for laptop luggers. One for the serious coffee geek, their baristas offer variations on the basic coffee from all over the world, from a Taiwanese pour-over to your latest nitrous cold-press nonsense.
5 Jalan Sriwedari, +62 (0)361 972 085, senimancoffee.com
And Finally, for Ice Cream…
Gaya Gelato
An offshoot of the lauded Gaya Ceramics, this Italian-owned ice cream company has recently expanded as far afield as Jakarta. All icecreams are organic, natural and delicious – and they deliver within the Ubud area, too.
Jalan Raya Ubud (close to the Palace), +62 (0)361 979 252, gayagelato.com
Gelato Secrets
Gorgeously playful and inventive gelato, from the fertile brains of an Italian couple. Fabulously fun, in an ever-changing feast of flavours.
Jalan Monkey Forest, +62 361 8989630, gelatosecrets.com
Any of your favourites missing here? Do let me know — if I haven't been I'll get down there and add them in. And, if you're looking for more Ubud travel information, check out this post on where you should stay in Ubud.
---